Specializing in accounts receivable management solutions
Lamont, Hanley & Associates, Inc., is a national company specializing in accounts receivable management solutions. Our company was the first in the industry established, owned and operated by certified collectors, and we continue to carry this distinction.
All of the collectors handling your accounts are certified by ACA International or the International Association of Commercial Collectors. We insist on the best trained individuals within our industry. Files entrusted to our collectors are handled with a level of service and expertise that meets the exceptional standard set by our company and expected by our clients.
At our inception, Lamont, Hanley & Associates, Inc. redefined the collection industry with our customer service approach. Our methodology incorporates sales techniques with financial guidance to provide your customers with a program that results in clearing their balance in a non-confrontational, business-like manner. This process results in a high liquidation and maintains a professional image for our company and our clients. We combine this with our collectors' abilities to resolve disputes and expedite files, making us unique in the collection industry.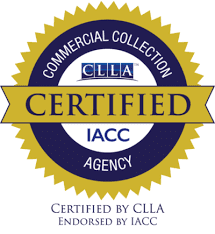 Payment Center
In order to help you resolve your payment obligations quickly and
easily, Lamont, Hanley & Associates, Inc., offers the ability to
securely make payments online by check or credit card.
Our payment portal is best viewed with the browsers,
Microsoft Edge or Google Chrome.
PAY ONLINE NOW
Strategic Partnership Benefits
ACA International Professional Collectors and IACC Certified Collectors
Professional Licensing
Nationally Insured and Bonded
Experienced, Highly Trained, Successful Professional Collectors
Industry Specific Collection Techniques
World-wide collection coverage
Standard and Custom Reports provided by your dedicated Client Services Representatives
Collections Seminars, Training and Monthly Newsletters to keep you informed
Audit visits welcomed
Navigate, our secure web-based application
HITRUST Certified
Secure Application
Review the collections accounts assigned to our office
Run and View reports
Securely Upload Payment and Placement Files
Securely Report Payments
Securely Report Individual Accounts
Navigate, our secure web-based application
Send notes to Lamont, Hanley & Associates, Inc.
Each user receives their own username and password. Training and telephone support is provided by your dedicated Client Services Representatives.
PRIVACY POLICY
Our Privacy Policy is designed to assist you in understanding how we collect and use the personal information we collect about you. We are committed to properly safeguarding personal information and it is our policy is to protect the confidentiality of personally identifiable information, and to limit access to that information only to those with a need to know. Please see our guide for our NYC Consumers.
What Information Do We Collect?
We may collect the following information about you: your real name, alias, postal address, unique personal identifier, online identifier, Internet Protocol address, email address, account name, Social Security number, driver's license number, passport number or other similar identifiers, records of personal property, products or services purchased, obtained, or considered, or other purchasing or consuming histories, your signature, physical characteristics or description, telephone numbers, insurance policy number, education, employment, bank account number, credit card number, debit card number, or any other financial information, medical information, or health insurance information, property ownership, bankruptcy or probate information, age, race, color, ancestry, national origin, citizenship, religion or creed, marital status, medical condition, physical or mental disability, sex (including gender, gender identity, gender expression, pregnancy or childbirth and related medical conditions), sexual orientation, veteran or military status, genetic information (including familial genetic information), audio recording, and consumer credit information (in order to determine the ability of a debtor to pay the balance due).
What Do We Do With the Information We Collect?
We use or disclose the personal information we collect for the following business purpose:
Debt collection.
To fulfill or meet the reason for which the information is provided. For example, if you provide us with personal information in order for us to process a payment, we will use that information to process said payment.
To provide you with information or services that you request from us.
To provide you with email or text alerts and other notices concerning our services.
To carry out our obligations and enforce our rights arising from any contracts entered into between you and us, including for collections.
To carry out our obligations and enforce our rights arising from any contracts entered into between you and our clients, including for collections.
As necessary or appropriate to protect the rights, property or safety of us, our clients or others.
To respond to law enforcement requests and as required by applicable law, court order, or governmental regulations.
We will not collect additional categories of personal information or use the personal information we collected for materially different, unrelated, or incompatible purposes without providing you notice. We do not sell your personal information. We may share it with the client that placed the account with us and outside debt collection attorneys.
Security
We are committed to ensuring that the information we collect is secure.  In order to prevent unauthorized access or disclosure, we have put in place suitable physical, electronic and managerial procedures to safeguard and secure the information we collect.  Additionally, we conduct security assessments on any vendors who may have access to your data. 
Changes to Our Privacy Policy
We reserve the right to amend this privacy policy at our discretion and at any time. We will update this privacy policy no less than annually.  When we make changes to this privacy policy, we will post the updated policy on our website and update the policy's effective date. 
Your continued use of our website following the posting of changes constitutes your acceptance of such changes.
Effective Date 6/29/2020
POLÍTICA DE PRIVACIDAD
Nuestra Política de Privacidad está dirigida a ayudarle a entender cómo recopilamos y usamos la información personal que obtenemos sobre usted. Estamos comprometidos a salvaguardar adecuadamente la información personal y nuestra política es proteger la confidencialidad de la información personal identificable y limitar el acceso a esa información sólo a aquellos que puedan necesitarla.
Qué información recopilamos?
Podemos recopilar la siguiente información sobre usted: su nombre verdadero, alias, dirección postal, identificador personal único, identificador en línea, dirección de protocolo de Internet, dirección de correo electrónico, nombre de usuario, número de seguro social, número de licencia de conducir, número de pasaporte u otros identificadores similares, registros de propiedad personal, productos o servicios adquiridos, obtenidos o considerados, u otros historiales de compra o consumo, su firma, características o descripción físicas, números de teléfono, número de póliza de seguro, educación, empleo, número de cuenta bancaria, número de tarjeta de crédito, número de tarjeta de débito o cualquier otra información financiera, información médica o información de seguro de salud, propiedad, quiebra o sucesión, edad, raza, color, ascendencia, nacionalidad de origen, ciudadanía, religión o credo, estado civil, condición médica, discapacidad física o mental, sexo (incluyendo género, identidad de género, expresión de género, embarazo o parto y condiciones médicas relacionadas), orientación sexual, condición de veterano o militar, información genética (incluida información genética familiar), grabación de audio e información de crédito al consumidor (para determinar la capacidad de un deudor para pagar el saldo adeudado).
Qué hacemos con la información que recopilamos?
Podemos utilizar o revelar la información personal que recopilamos para los siguientes fines comerciales:
Cobro de deudas.
Para cumplir con el objetivo para el cual se suministra la información. Por ejemplo, si usted nos suministra información personal para que podamos procesar un pago, usaremos esa información para procesar dicho pago.
Para suministrarle información o servicios que solicite de nosotros.
Para enviarle alertas y otras notificaciones por correo electrónico o mensaje de texto respecto de nuestros servicios.
Para cumplir con nuestras obligaciones y hacer valer nuestros derechos derivados de cualquier contrato celebrado entre usted y nosotros, incluso para cobros.
Para cumplir con nuestras obligaciones y hacer valer nuestros derechos derivados de cualquier contrato celebrado entre usted y nuestros clientes, incluso para cobros.
Según sea necesario o adecuado para proteger los derechos, bienes o seguridad propia, de nuestros clientes o terceros.
Para responder a los requerimientos de cumplimiento de la ley y según lo requerido por la ley aplicable, sentencia judicial o regulaciones gubernamentales.
No recopilaremos categorías adicionales de información personal ni utilizaremos la información personal que hemos recopilado para fines materialmente diferentes, no relacionados o incompatibles sin aviso previo. No vendemos su información personal. Podemos compartirla con el cliente que colocó la cuenta con nosotros, fuera de los abogados de cobro de deudas.
Seguridad
Nos comprometemos a garantizar que la información recopilada sea segura. Con el fin de evitar el acceso o la divulgación no autorizados, hemos establecido procedimientos físicos, electrónicos y administrativos adecuados para salvaguardar y asegurar la información recopilada. Además, realizamos evaluaciones de seguridad de cualquier proveedor que pueda tener acceso a sus datos.
Cambios en nuestra política de privacidad
Nos reservamos el derecho a enmendar esta política de privacidad a nuestra discreción y en cualquier momento. Actualizaremos esta política de privacidad al menos una vez al año. Cuando realicemos cambios a esta política de privacidad, publicaremos la política actualizada en nuestro sitio web y actualizaremos la fecha de entrada en vigor de la misma.
El uso continuado de nuestro sitio web después de la publicación de los cambios constituye su aceptación de dichos cambios.
Fecha de entrada en vigor: 29/06/2020
A glossary and translation of commonly used debt collection terms is available in multiple languages on the New York City Department of Consumer Affairs website www.nyc.gov/dca. We offer English and Spanish speaking representatives and CanTalk, www.cantalk.com, a live language interpretation service that, as of September 30, 2020, can interpret live phone calls in the languages below.  We do not offer translation of our letters, written communications or website except for our privacy policy that is offered in English and Spanish.
AFRICAN LANGUAGES
Afar
Afrikaans
Akan
Amharic
Anuak
Anyin
Asante
Azari
Bambara
Baoule
Berber
Bilen
Borana
Chichewa
Creole
Creole-Haitian
Creole-Cape Verdean
Creole-West African
Dinka
Dyula
Ewe
Fante
Fulani
Ga
Hausa
Igbo
Kasem
Kikongo
Kinyamulenge
Kinyarwanda
Kirundi
Kissi
Kiswahili
Krahn
Krio
Kunama
Lingala
Luganda
Luhya
Maay Maay
Malagasy
Mandingo
Mandinka
Nuer
Nupe
Nyanja
Oromo
Papiamentu
Pidgin
Runyakitara
Saho
Shona
Somali
Susu
Swahili
Tigre
Tigrinya/ Eritrean
Tshiluba
Twi
Wolof
Yoruba
Zulu
Pidgin
Runyakitara
EUROPEAN LANGUAGES WESTERN
Catalan
Danish
Dutch
English
Flemish
Finnish
French
French-Canadian
French-France
French-African
German
Greek
Icelandic
Italian
Low German
Luxembourghish
Norwegian
Swedish
Portuguese
Portuguese-African
Portuguese-Azores
Portuguese-Brazilian
Portuguese-Portugal
Spanish
EASTERN
Albanian
Armenian
Belorusian
Bosnian
Bulgarian
Croatian
Czech
Estonian
Georgian
Hungarian
Kyrgyz
Latvian
Lithuanian
Macedonian
Mixtec
Moldavian
Montenegrin
Neapolitan
Ossetian
Polish
Romanian
Russian
Serbian
Serbo-Croatian
Slovakian
Slovenian
Ukrainian
ASIAN LANGUAGES EAST ASIAN & PACIFIC
Bikol
Burmese
Burmese-Rohingya
Cantonese
Cebuano
Chin-Hakha
Chin-Falam
Chin-Tedim
Foochow
Fukianese
Fuzhounese
Hokkien
Ilocano
Indonesian
Indonesian-Bahasa
Javanese
Sundanese
Japanese
Kapampangan
Karen
Karen-Sgaw
Kazakh
Korean
Lao
Malay
Maltese
Mandarin
Mien
Mongolian
Shanghainese
Samoan
Tagalog
Taishanese
Tajik
Teochow
Thai
Tongan
Toisan/Taishan
Uyghur
Uzbek
Vietnamese
Visayan
Waray
EAST INDIAN
Bengali
Gujarati
Hindi
Hindko
Malayalam
Marathi
Nepali
Punjabi
Sinhala
Sylheti
Tamil
Telugu
MIDDLE EAST
Arabic
Arabic-Moroccan
Arabic-Sudanese
Arabic-Lebanese
Arabic-Egyptian
Arabic-Gulfland
Arabic-Iraqi
Arabic-Syrian
Arabic-Jordanian
Aramaic
Assyrian
Azeri-Azarbaijani
Chaldean
Dari
Farsi/ Persian
Hebrew
Kurdish
Kurdish-Kurmanji
Kurmanji-Behdini
Kurdish-Sorani
Pashto/ Afghan
Salish
Turkish
Yazidi
INDIGENOUS / CANADIAN
Algonquian
Blackfoot
Chipewyan
Cree
Cree-James Bay
Cree-Moose
Cree-Plains
Cree-Swampy
Cree-Woodlands
Dakota
Dene
Dogrib
Inuinnaqtun
Inuktitut
Michif
Micmac
Mohawk
North Slavey
Ojibway
Oji-Cree
Saulteaux
Slavey
South Slavey
Tsilhqotin